I am Rosanna, the Heidi of the group. I live in the mountains at an altitude of 1500mt, underneath the Marmolada, in Penia di Canazei, a small village.
I am 33 years old and I have LGMD2E or LGMDR4.
AS A CHILD
When I was little I was a real tomboy, I used to climb everywhere and I never stood still. I got sick at the age of 6 and started walking on my toes and falling to the earth like a salami.
The first symptoms appeared after removing the cast on my fractured arm and the doctor thought it was the weight of it causing tendonitis. After that, I started having more and more difficulty climbing stairs and getting up off the ground. The specialist in Trento performed a muscle biopsy and diagnosed me with myositis. It was the 1990s and even the doctors were fumbling around in the dark.
At the age of 13, I was hospitalized in Bologna to lengthen the tendons and perform another muscle biopsy. For the first time they started talking about dystrophy and then in Padua the beast had a name: Limb Girdle Muscular Dystrophy .
AFTER THE DIAGNOSIS
I fought with all my strength not to sit forever. Willpower, however, was not enough and since the age of 15 years "my spider" and I have been inseparable. Not being able to do anything but sit, I vented on books. I attended accounting school. For 5 years I did 60 km a day to go to school. It was a great sacrifice, but it was worth it. Those were the best years because they gave me the opportunity to make many friends. Then I enrolled in the university as a non-attendee. I studied at home, going to Trento (a two-hour trip) to take my exams. The degree in Literature was the greatest satisfaction of my life because it was achieved thanks to my willpower.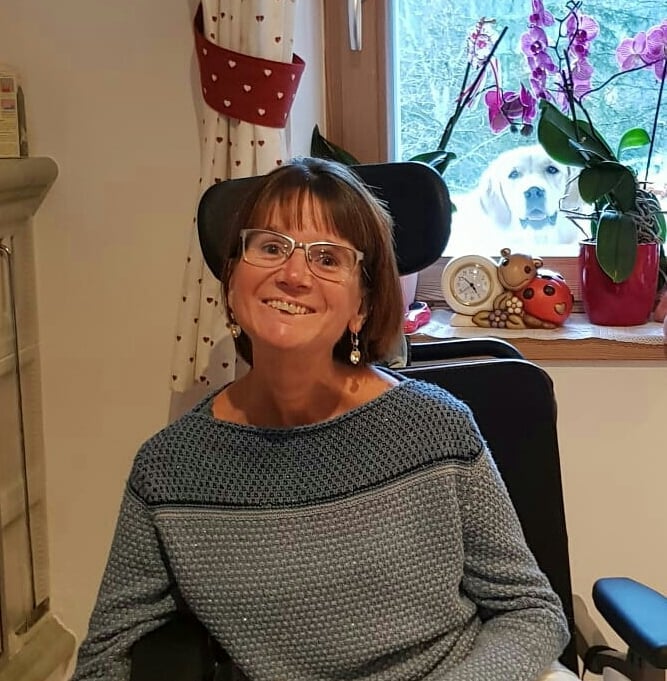 AFTER THE GRADUATION
After graduation I was convinced I would find a job immediately, but I was mistaking. So many promises but very little concrete. I realized that if I wanted to do something I had to do it by myself and so I looked for students for private tutoring. The best job as I do not get out from home in winter. I also occasionally write articles for a local newspaper.
I try to live my life, even though it's not easy being disabled in a mountain town. Up here it is not like in the city: social life is limited by the obstacles that still exist in terms of transportation and lack of meeting points. In addition, the long, cold winter forces me to spend my days indoors from October to February. I am like a marmot: I hibernate and then try to let off steam in the spring and summer by going for a walk with my friends.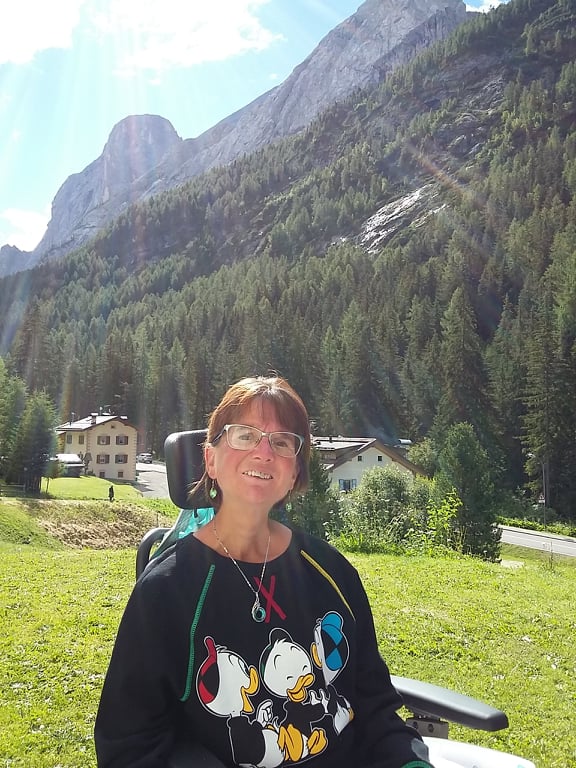 MY THERAPIES
Since 1993 I have been treated in Padua. I am followed by neurologists Corrado Angelini and Claudio Semplicini and cardiologist Paola Melacini.
During the year I take vitamins such as Diagran Minerale, Evion, Carnitene and since autumn 2012 the cardiologist advised me to take half a tablet of Perindopril for a mild heart failure, replaced by a month by Coversyl. They are ACE inhibitors. I am not using the ventilator for now. I will need to have further breath testing next fall.
COUGH
The biggest problem is when I get a cough: I have such a hard time expectorating phlegm. That's why I avoid getting colds if I can.
My mom is a homemaker and she is in charge of my daily care. At home I have a lift in the bathtub and an electric bed. For now, I don't use any other aids but I will probably need more in the future because the disease is becoming more and more disabling. Every year it takes a part of me. All that remains is the strength to fight, trying to accept all that the disease entails and appreciate the nice little things in life.